Emergency Department Leadership
Prepare yourself for Leadership.  The 'Emergency Department Leadership' course is a five-day program to develop your leadership toolkit and enable you to progress from great clinician to great leader. Over five-days, participants will take part in personal reflections, lectures, group tasks, case studies and other activities to enable their development as well-rounded, well-networked clinical leaders.

📅 Monday: 3 May to Friday 7 May 2021 (fully booked)
EMERGENCY DEPARTMENT LEADERSHIP
EMERGENCY DEPARTMENT MANAGEMENT SKILLS – PREPARE YOURSELF FOR LEADERSHIP
OVERVIEW
This five-day program is a fantastic opportunity to develop your leadership toolkit and enable you to progress from great clinician to great leader.
Leading and managing are intrinsic parts of being a doctor. Often without formal recognition, doctors manage teams, lead service improvements, provide staff development opportunities and contribute to the day-to-day management of their departments.
From very early in their careers doctors have a significant impact on the quality and safety of patient care, on patient experience, staff morale, and on the effectiveness of the working environment.
Expand your skills and confidence in leadership, quality improvement, managing change, creating positive culture, financial management, driving clinical performance, managing projects, influencing organisational stakeholders and establishing robust training and research programs.
WHO SHOULD ATTEND?
Emergency Department Directors
Emergency Medicine Fellows (Medical)
Emergency Medicine Trainees (Medical)
Senior hospital administrators in Emergency Medicine
DATES
Dates: 3 – 7 May 2021* (fully booked)
* Click 'Register" to join the waitlist and be the first to get notified about future courses.
LOCATION
Lake House, Daylesford, Victoria
EMERGENCY DEPARTMENT LEADERSHIP
EMERGENCY DEPARTMENT MANAGEMENT SKILLS – PREPARE YOURSELF FOR LEADERSHIP
Over five-days participants take part in personal reflections, lectures, group tasks, case studies and other activities to enable their development as well-rounded, well-networked clinical leaders.
Participants will be provided with self-directed online pre-learning activities (approximately 10 hours) in preparation for the program.
The course:
Provides an environment to practice leadership techniques and to benefit from the experience of international colleagues.
Is enhanced with the inclusion of a tertiary hospital COO on the teaching faculty to provide invaluable insight into hospital administration.
Is designed and relevant for participants from all global locations.
LEARNING OUTCOMES
Becoming an emergency medicine clinical leader

Measuring and improving quality of emergency care

Leading people in the emergency department setting

Developing a positive emergency department culture

Managing finances and budgets

Being accountable and driving performance

Managing emergency department projects

Managing the emergency care process

Establishing robust research and training programs

Influencing the organisation and other stakeholders
EMERGENCY DEPARTMENT LEADERSHIP
EMERGENCY DEPARTMENT MANAGEMENT SKILLS – PREPARE YOURSELF FOR LEADERSHIP
FEES
Cost: $2,000.00* (plus GST)
* The registration fee includes the 5-day course and daily catering. A social dinner (gourmet BBQ) will also be included on Monday 3 May 2021.
** An optional group dinner will be arranged for Thursday 6 May 2021. The cost is an additional $140.00
*** Accommodation and additional catering is available, at your own cost, on-site and in the surrounding area. We encourage you to stay on-site, if possible, to benefit from networking opportunities.
TERMS AND CONDITIONS
Due to the corona virus pandemic, course dates that require in-person attendance are subject to change based on government advice.
If you are showing any symptoms of COVID-19 or have been in contact with a person that has been diagnosed with COVID-19 at the time of course delivery, we request you transfer or cancel your registration.
Cancelled registrations can be transferred to an alternative course or held in credit and used in the next 24 months.
Please note, when you register, you will be agreeing to the following:
Disclaimer:

The content of this course is directed at appropriately licensed and trained practitioners. It represents current information about the provision of emergency medical care. It is not intended to replace, and should not be construed as medical advice. Any concerns regarding a medical diagnosis or treatment should not be directed to a medical practitioner.

Course cancellation:

In very rare cases, due to clinical demand or other unforeseen, unavoidable reasons, courses may need to be cancelled. In this instance registrants will be advised urgently and will receive a full refund for registration fees.
REFUND POLICY

Substitution
If, after booking an event you are unable to attend, you are welcome to nominate someone else to attend in your place. Please advise substitutions via email so a correct name tag will be available at the registration desk. CPD hours will be allocated to the substitute delegate.
Refunds
Cancellation more than 30 days before the event: 70% refund.
Cancellation less than 30 days: no refund. A credit will be provided and can be used over 24-months from the date of cancellation.
Cancellation must be in writing.
EMERGENCY DEPARTMENT LEADERSHIP
EMERGENCY DEPARTMENT MANAGEMENT SKILLS – PREPARE YOURSELF FOR LEADERSHIP
EMERGENCY DEPARTMENT LEADERSHIP

Profesor Peter Cameron
Professor Cameron is the Academic Director of The Alfred Emergency and Trauma Centre and Professor of Emergency and Divisional Head of Health Services Research at Monash University's School of Public Health and Preventive Medicine (SPHPM).
Professor Cameron is also the Chair of the Monash/Alfred Injury Network which brings together in excess of 100 researchers to form one of the most comprehensive academic groups in emergency and trauma globally.
He is currently a Chief Investigator on a number of NHMRC grants including the Centre for Research Excellence in Australian Resuscitation Outcomes Consortium (Aus-ROC) the Centre for Research Excellence in Pre- hospital, Emergency Care (CRE-PEC) and a number of partnership and project grants involving injury and trauma research.
Prof Cameron is also a Chief Investigator on leading clinical quality registries including the Victorian State Trauma Registry, the Victorian Orthopaedic Trauma Registry, the Massive Transfusion Registry, the Aus-ROC Epistry and the Burns Registry of Australia and New Zealand (BRANZ). Member of the Steering Committee for the Victorian Cardiac Arrest Registry.
Associate Professor de Villiers Smit
As Director of Emergency Services at Alfred Health and Director of The Alfred Emergency & Trauma Centre, Dr Smit oversees the busiest trauma centre in Australasia.

This oversight includes commitment to a substantial program of education, research and international collaborations. Academic activities with this department include medical and nursing education programs from internal professional development certifications, to development of the Monash University Masters of Emergency Medicine and Fellowship programs. The department also boasts an active EM research program.
A/Prof Smit has been instrumental in the development and implementation of several care models to improve the patient care and experience. He has previously worked in major trauma centres in South Africa, Hong Kong, the United Kingdom and New Zealand.
A/Prof Smit is an Associate Professor at Monash University, School of Public Health and Preventive Medicine. He is also the Deputy Program Director for the Emergency & Acute Medicine Program, incorporating Emergency Medicine, Intensive Care, General Medicine, Paediatrics, Hospital In The Home (HITH) and the Hospital at Night Team (H@NT).

Ms Simone Alexander
Ms Alexander has more than 20 years' experience in the healthcare sector. She was appointed Chief Operating Officer in August 2018 after she has been acting in the position since November 2017 and is responsible for the management and performance of Alfred Health's clinical operations. Ms Alexander has spent the last eight years as a Clinical Service Director at Alfred Health, most recently as the Clinical Service Director, Emergency and Acute Medicine. In this role, she provided leadership and operational management of many areas including Alfred and Sandringham Hospital's Emergency Departments, ICU, hyperbaric, cardiology, general medicine, neurology, hospital in the home and five inpatient wards. She was responsible for meeting national emergency access targets and service development. Ms Alexander has also taken part in advising on trauma centre development in other countries, including Saudi Arabia. Ms Alexander has Masters Degrees in Health Management and Clinical Nursing.

Dr Mark Putland
Associate Professor Mark Putland studied medicine at the University of Melbourne and completed his fellowship in emergency medicine in 2007. The next 10 years of his career was based in a large regional hospital in Central Victoria, where he helped to build a highly respected and successful emergency medicine training program as Co-DEMT and was acting Director of Emergency Medicine during the implementation of a digital medical record, and the move of the entire health service into a new facility. In 2015 he won a Fulbright professional scholarship to study trauma systems in the United States. In 2018 he was appointed Director of Emergency Medicine at the Royal Melbourne Hospital. He also has three wonderful children and an extraordinary wife who is much smarter than him and he is extremely distractible.

Dr Rachel Rosler
Dr Rachel Rosler is an Emergency Physician and the Director of Emergency at Monash Medical Centre.
EMERGENCY DEPARTMENT LEADERSHIP
EMERGENCY DEPARTMENT MANAGEMENT SKILLS – PREPARE YOURSELF FOR LEADERSHIP
LOCATION
The Lake House lies on the shores of beautiful Lake Daylesford. Walking tracks lead from the property, around the lake and into the Wombat State Forest, complete with local fauna and the abundant health creating mineral springs the area is renowned for.
Map: 
https://goo.gl/maps/eFYFSrjxVsaaRrEUA
ACCOMMODATION
Special accommodation rates have been negotiated with the Lake House.
To book these rates, contact the Functions Team by telephone on +61 3 5348 3329 or email: functions@lakehouse.com.au and mention you are with the Alfred Health Emergency.
Accommodation fee per night:
$350 for single occupancy*
$480 double occupancy**Rooms will be either a 'Lodge Studio' or 'Waterfront Pool Studio' with a king or twin bed. (Rooms will be allocated by the Lake House).
For full details on the Lake House hotel, please visit the website: https://lakehouse.com.au/hotel/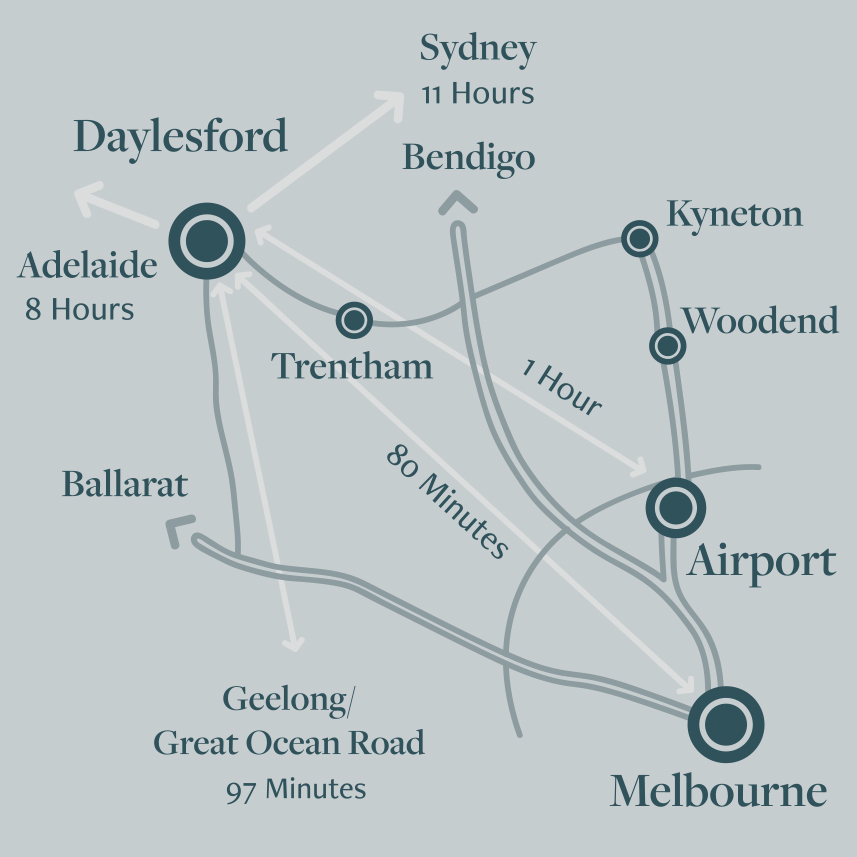 EMERGENCY DEPARTMENT LEADERSHIP
For more information about this course, please contact the Course Coordinator.
Angela Hodges
Alfred Emergency Education
Telephone: 03 9903 0666
Email: etc [@] alfred.org.au
ENDORSEMENT & ACCREDITATION
This course is endorsed by the Australasian College for Emergency Medicine and accredited by the Australian College of Rural and Remote Medicine.